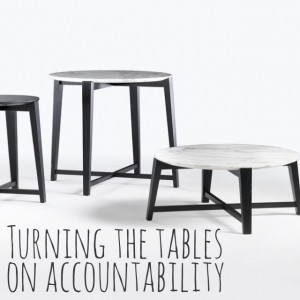 Many have heard it before, a leader says, I hold you accountable for this… that… or the other… Or someone says, I stay accountable to… And they name a leader–someone perceived as being further along the spiritual journey. This has a place in church. It always will. But…
What if we were radical enough to turn the tables on accountability?
What if we as leaders were to say to people, I am going to give account for your ability!
What would happen if leaders–and the spiritually-further-along–woke up and said, In heaven I will give account for the ability of the people I have led. All the people in my world. All the people in my church…. ?
What would happen is we would be radically transformed into disciple makers.
 And isn't this the mandate given by Jesus, "make disciples," Matthew 28:19.
As a leader, I am going to give account for ability of others. I will be held to account for the people God gives me. So, the burden of responsibility for accountability shifts away from the person I lead and is squarely placed on my shoulders. And rightly so.
Jesus gave account to the Father this same way, "I have revealed you to those whom you gave me … They were yours; you gave them to me and they have obeyed your word … they know everything you have given me comes from you … I gave them the words you gave me and they accepted them  … They know with certainty … I pray for them … While I was with them, I protected them and kept them safe … None has been lost." John 17:6-12.
Jesus personally taught and trained His disciples. He lived with them in close personal community. Everything about Jesus' life revealed the Father to them. When the disciples didn't even know the destiny God had for them, Jesus was discipling them, getting them ready for what God had in store; they were to be pioneers…
In Hebrews we read, Have confidence in your leaders and submit to their authority, because they keep watch over you as those who MUST GIVE AN ACCOUNT. Do this so that their work will be a joy, not a burden, for that would be of no benefit to you, Hebrews 13:17. Some English translations say "obey" your leaders. But this leaves out the much greater context from the Greek: being persuaded by God to have confidence in your leader, or of their trustworthiness. And verse 7 gives further commentary on this consider the outcome of their way of life. That is, people should not just blindly obey a leader but watch closely for fruit that is in line with the Word of God, and then being persuaded by God that this person is a leader…
If I as a leader use this verse to get people to "obey" me, I am using manipulation and opening myself up to religious or jezebel spirits. This kind of leadership does not demonstrate God's heart for His people, it instead allows the work of the enemy to flow through a church.
As a leader I must be someone people can have confidence in following because they have seen the fruit of my life and have experienced my love and commitment to them.
And, as a leader, God will not ask me, How well did those people you were leading submit to you? God will ask me for an account of my love and concern for them. Did you love? Did you train up? Did you disciple? Did you empower? Did you release? I will give an account for how well I served them.
The goal for me giving account then becomes, how well did I serve?
Did I help them discover Who God is?
Did I help them discover who they are in light of Who God is? (their identity)
Did I help them discover the gold God has put in them?
Did I train the gifts and talents He gave them?
Did I provide loving training in spiritual gifts and calling?
Did I provide opportunity and encouragement?
Did I release them to fly… ?
As a leader I must say I will give account for your ability. And if I want to be a great leader, I should keep in mind the words of Jesus, The greatest among you will be your servant, Matthew 23:11.